New


Duo Surface
---
Teaching and presentation methods have evolved. More multimedia, projection and interactive content is being incorporated into classrooms and corporate meeting spaces worldwide. this advancement in technology has led to tension between flare reduction and dry erasability. As a result, students and coworkers are experiencing shorter attention spans, visual fatigue and reduced knowledge transfer. 
High performing, multi-functional whiteboard surfaces that work with both analog and digital information are not in increasingly important tool for everyday learning and collaboration. e3 CeramicSteel duo-optimized for projection, writing and erasing-meets the growing needs of today's students and workers. With strict flatness tolerances, e3 CeramicSteel due supports new technology such as infrared frames, interactive projectors and camera-based solutions for maximized performance in any learning or meeting space. 
Duo Boards Are Available in the Following 3 Sizes:
47-1/4″ x 63″ (1200mm x 1600mm)
47-1/4″ x 84″ (1200mm x 2133mm)
47-1/4″ x 144″ (1200mm x 3657mm)
Projection: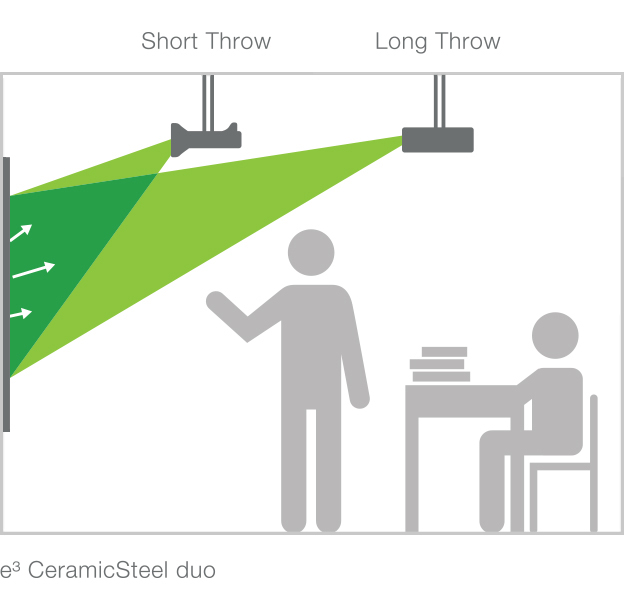 Ideal for spaces that are exposed to excessive ambient light, e3 CeramicSteel duo is scientifically engineered to reduce glare. Whether utilized with short throw, long throw or interactive projectors, e3 CeramicSteel duo minimizes visual stress from anywhere in the room.
Surface Options
White
Duo Surface information is directly from PolyVision, manufacturer of writing surfaces.
Due to variance among color monitors the colors that appear on your screen may not be exact.
If color is important you must request samples prior to ordering.